About
Company Profile
---

INFINAIR CORPORATION
(Old name: Shanghai Nautilus General Equipment Manufacturing Co Ltd)
INFINAIR is an innovative company which provides environmental and intelligence solutions for all aspects of ventilation systems in both private and public sector. They have been INFINAIR's core values and commitments to our customers over the years.
Trademark: INFINAIR
Established Since: September 2003
Paid up capital: 50,000,000 RMB
Architectural area: 33,000 ㎡
Address: No. 55 Qingneng Road, Waigang Town, Jiading District, Shanghai, P. R. China
Company Vision:
To become the most trusted brand of professional air movement & control solution provider.
Company Mission:
To provide the most reliable and user-friendly air movement & control system.
Scope of business: including R&D, manufacturing and service of:
* Complete, high-quality environmental ventilation equipment and system solutions for various kinds of buildings (Commercial buildings, hotels, hospitals, schools, transportation hubs, sports facilities, industrial workshops, etc.).
* Industrial process air transportation equipment and system solutions.
* Infra-structure based ventilation solutions for MRT & tunnels
* System design, manufacturing & commissioning of automation control and monitoring system.
* Eagle service: Agile after-sales service and support.
* Smart fans: BLDC & EC fans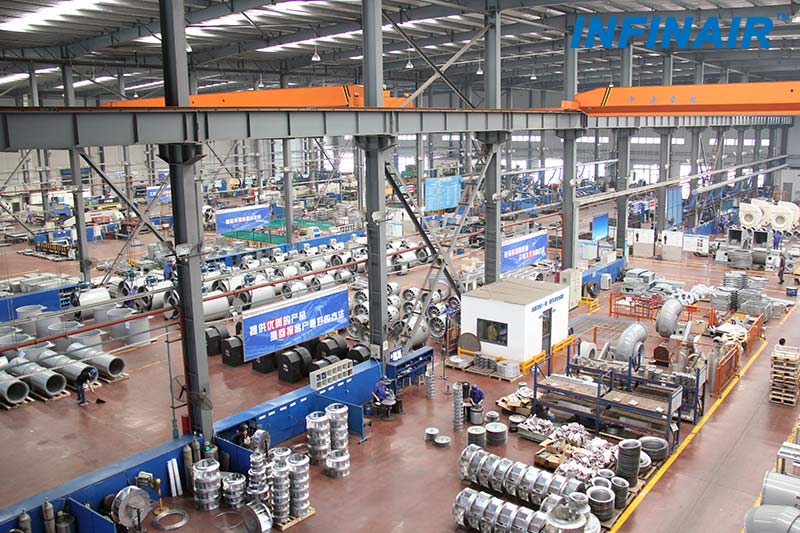 Awards and Achievements:
* High-tech Enterprises
* Renowned Shanghai trademark
* Famous Shanghai brand name
* SGS ISO 9001、ISO 14001、OHSAS 18001 Management Certificates
Technological Strength:
* INFINAIR's Air Movement & Sound Laboratory is the first Air Movement and Control Association (AMCA) accredited Laboratory in mainland China.

* It is also certified by Chinese National Accreditation Service for Conformity Assessment (CNAS).

* Most of the INFINAIR's products are tested and certified by many international certification bodies such as AMCA, TUV SUD, CE, CRAAQCC, etc.
INFINAIR's Intelligent Ventilation Technology
Intelligent Adaption
We can quickly adapt to changes in the business environment.

Intelligent Adjustment
The combined use of Inverter and permanent magnet synchronous technologies can achieve best results with the use of logic controller.

Intelligent Real-time Information
Individual workstations are linked to the central control system through internet or local area network.

Intelligent Detection system
Reliable sensors can detect early symptoms and notify the user. Ensuring stable operation.

INFINAIR's Bionic Technology
INFINAIR's Bionic Energy Conservation
We develop energy saving products by observing behaviors from the animal kingdom. For example, birds can glide for thousands of kilometers without flapping, conserving energy.

INFINAIR's Bionic Noise Reduction
Why Owls can fly so silently? Even mice are not being able to detect their approaches?
The research and development of INFINAIR's products are heavily inspired by the animal evolution over the past millenniums. We have learnt how energy and sound are being able to conserve from their amazing changes.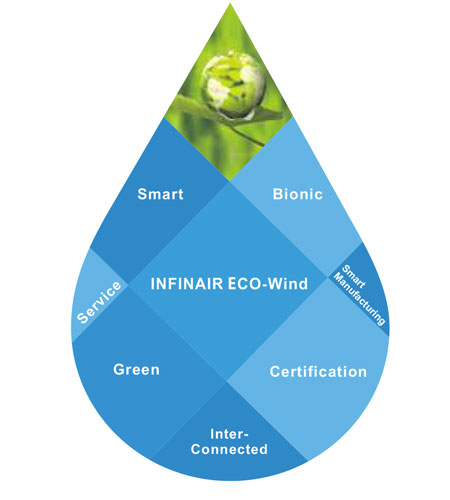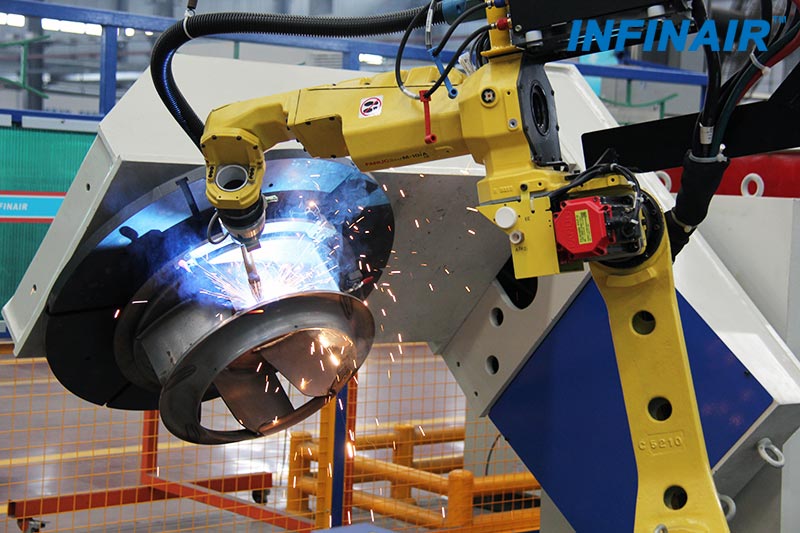 INFINAIR's Intelligent Fabrication
* Intelligent fabrication process.
* Capable of carry out online performance, balance level and communication testing. Ensuring reliable quality.
* Robotic welding technology.
* Agile Manufacturing, responds quickly to customer desires.
* 6Σ Systems.
Green Smart Technology
CFD Simulation & Analysis
A computer-aided air movement simulation model which can calculate the efficiency of the fan based on the number of blades, blade angle, width, and noise level.

Finite Element Analysis Technology
To analyze and provide accurate prediction of how material is likely to respond when subjected to structural and/or thermal loads.
INFINAIR's After-sales Service
* We are here to help and our dedicated customer service is available 7 days a week.
* Professional service team is capable to provide customers adequate ventilation solutions.
* We will ensure faulty products are repaired or replaced in a timely manner.
Certifications and Testing
Most of the products are certificated by:
CCCf, AMCA, TUV, UL.

Performance and Reliability Testing:
Air Volume, Air Pressure, Power, Noise Level, Temperature Deviation, Corrosion and Water Proof Test, etc.

Interconnected
Matrix Connection
Central Connection
Terminal Connection