About
History of INFINAIR
---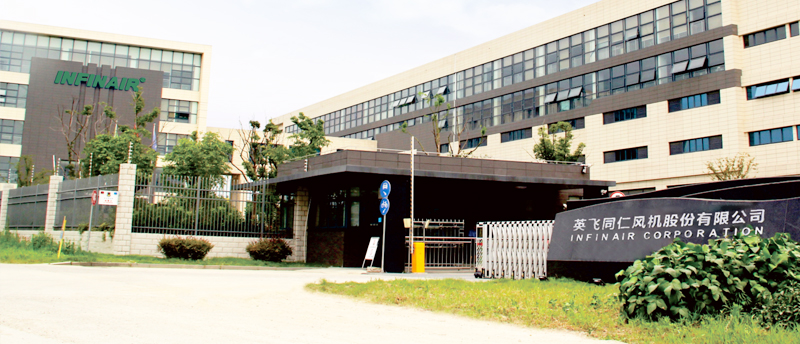 2003
-- INFINAIR CORPORATION was founded at Jiading district in Shanghai.
2004
-- The first series of AMCA certified products were released.
2005
-- As revenues growth quickly, the company was able to research and develop many new products.
2006
-- INFINAIR has begun to provide gas heating solutions for many industrial customers, including direct gas-fired make-up air units, relevant control systems and gas-fired infrared heating systems. Services provided include system design, manufacturing, field installation (field management), and debugging.
2007
-- INFINAIR's air performance laboratory was built and put into use. It was built under strict guidelines under AMCA,
2008
-- INFINAIR received multiple awards from local district government for its outstanding performance.
2009
-- INFINAIR received the Shanghai's High-tech Enterprise and Patent-Developing Enterprise awards.
2011
-- INFINAIR's original air performance laboratory was expanded and built a second chamber to cover larger and wider air volume and pressure. It has become China's first AMCA accredited laboratory.
2013
-- INFINAIR received the Shanghai Famous Trademark award.
-- INFINAIR aimed to inspire independent innovation among employees and encourage them to share their ideas while improving performance. As a result, the internal employee organization known as the All-Employee Entrepreneurship Council (INFINAIR AEC) was founded.
2014
-- Within INFINAIR's sales system, a new ecological system has evolved. The new ecological system replaced the previous bureaucratic structure, which divided region, department, and rank. Instead, replaced by a new, customer-centered, cross-departmental, cooperation-based ecosystem.
-- Our new manufacturing plant (located in Waigang, Jiading, Shanghai) was completed, and a large number of automated equipment were in place to provide a reliable hardware foundation that supports the core principles of INFINAIR service: reliable, convenient and novel.
-- Extraordinary customer experience and delightful family life is formally defined as the INFINAIR Dream which has become a main driving force behind INFINAIR's success.
2015
-- The SGS certified ISO 9001, ISO 14001 and OHSAS 18001 systems known as the Tri standards, where its construction method reflected INFINAIR's commitment on social responsibility.
-- Lean production and 5S construction methods steadily develop, motivating employees to continue conducting positive and energetic entrepreneurship. Supported by the All-employee Entrepreneurship Council (AEC), productivity, production efficiency, and product quality were all improved significantly.
-- Quality customer service, key client easy-access service, and internal customer relations systems continued to develop deeply.
2016
-- INFINAIR's laboratory was certified by CNAS (China National Assessment Service) where it was assessed under ISO 17025 international standard guidelines.
-- Received silver in Advanced manufacturer of Jiading District award.
2017
-- Some of the INFINAIR's commercial HVAC products were certified by TÜV SÜD for their performances under 300°C for 120 minutes.
-- Received Shanghai Famous Brand Name Product award.
2018
-- INFINAIR ARABIA CO LTD has been established in Kingdom of Jordan to produce fans for Middle East and North Africa and improve the delivery for customers.