About
AMCA membership certificate
---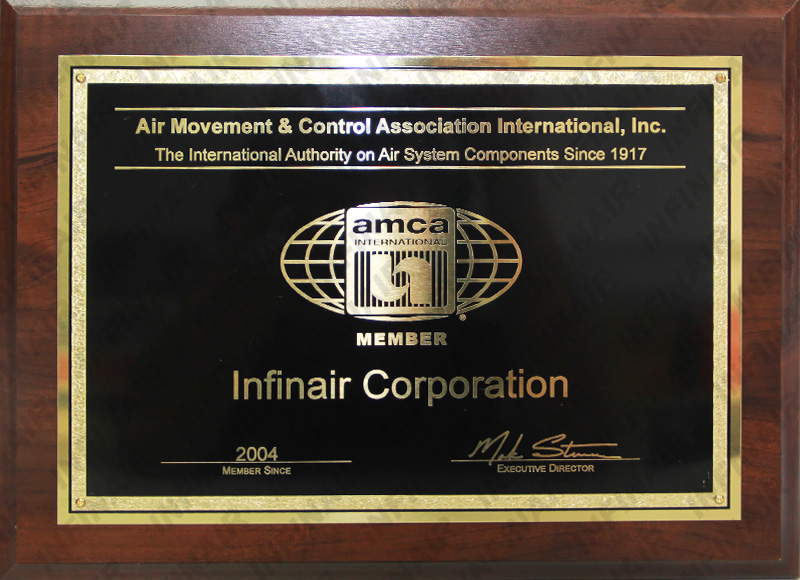 AMCA is short for Air Movement and Control Association. The AMCA is the ventilation indistry's most authoritative self-regulatory organization worldwide; its members consist of mainstream manufacturers all over the world.
An AMCA membership certificate is the only document that certifies that an enterprise has passed the strict analysis of the AMCA. INFINAIR joined the AMCA in May of 2005.
Application conditions of AMCA members:
-- Possess independent development strength.
-- Conduct product design and accreditation according to AMCA standards.
-- Have processing and consistency control capacity.
-- Have good financial capability.
-- Have potential for promoting the AMCA.
AMCA members are able to:
-- Obtain industry statistics and prediction information.
-- Attend AMCA meetings and become familiar with industry trends.
-- Participate in international exchange and master cutting-edge processes and technologies.
-- Buy AMCA Standard handbook, which provides guidelines for to developing international and advanced products.
-- Obtain AMCA technology support, including for the construction of AMCA labs.
-- Apply AMCA accreditation labels on products.
-- Have the opportunity to join the AMCA standard committee.