About
AMCA accredited lab
---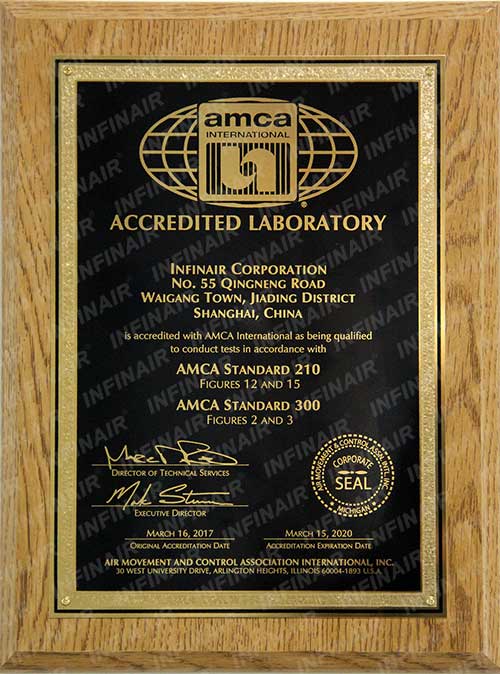 AMCA is actually dedicated to special test item certification of fan for lab, but not all business of lab. The third party lab recognized by AMCA and approved by AMCA board of directors can carry out pre-certification test and fan test etc.
Today, the rapid development of the fan industry requires high-quality products. In addition to efficient production capacity, elements like powerful research ability, a scientific management system, and rigorous professionalism are also crucial. These elements parallel the development goals of INFINAIR. Our AMCA-accredited lab not only increases R&D capability, but also provides accurate and efficient post-production inspection methods, significantly improving product reliability and parameter accuracy.
INFINAIR's AMCA-accredited lab is able to:
-- Test and optimize the current product performance.
-- Constantly optimize the new product and provide reliable data to match sample data.
-- Provide advanced ideas and long-term vision for R&D.
-- Provide trust guarantee for customer to visit.
-- Develop industrial standard and put It into practice of INFINAIR fan.
The INFINAIR aerodynamic performance lab was accredited by the AMCA in 2011 and became the first laboratory in Mainland China to obtain AMCA certification. The lab plays an important role in the process of R&D and helps to improve and optimize the products. The lab also verifies that product performance meets customer demands, ensuring a positive customer experience and enhancing client confidence about INFINAIR products.