Backward Curved SWSI Centrifugal Fan - Wheel Type K - YFBCSK
Airflow Range: 1,000 ~ 220,000 m³/h (588 ~ 129412 CFM)
Total Pressure Range: 300 ~ 5,400 Pa (1.2 ~ 21.68 in.WG.)
Operating Temperature: -20~450 ℃
Drive Type: Direct/ Belt/ Axial
Installation Methods: Base Mount
Applications: Industrial/ Explosion Resistant
For reference only. Please contact our sales rep for detailed performance fan curve. Thank you.
Wheel
Optimized Design
The fan adopts advanced technology. The design of backward curved centrifugal wheel is optimized by means of CFD hydro-field simulating. The design is more accordant with the aerodynamic characteristics, high efficiency, and stable airflow.
Advanced Process
All steel laser cut blades are welded and positioned accurately. The overall strength of the blades are designed and welded to withstand long hours high speed operation.
High Balancing Level
Each wheel is subjected to dynamic balance test. The balancing level is kept at G4.0 (Typical products are balanced to G6.3 only). Durability, stability and quietness are guaranteed.
High Performance Curve
The wheel has a stable, smooth air performance curve which can efficiently avoid performance drop caused by the deviation of the working point.
Surge Protection
The fan shaft power will not exceed the motor rated power regardless the operation point of the stable working range. Customers can use it without any worries.
Feature
High Reliability
ü Our products use advance FEA-aided design to enhance the reliability of structure.
ü The hub and the wheel are strengthened and leak-proof thanks to the all-steel continuous welding method. Safety is also significantly improved during operation.
ü The new shaft and coupling technology ensuring the accuracy during the assembly process while maintaining high reliability.
ü Maximum load surpasses 35% of limit speed to ensure the long-term continuous operation of the security.
ü Bearing seal can be lubricated. Service life is more than L10:80000 hours to ensure operation reliability and durability.
ü The drive unit has a protective shield using eye-catching warning color to ensure personal safety.
ü All our products have undergone vibration tests prior leaving the factory in order to achieve reliable and durable operation.
High Efficiency

ü Venturi inlet shall match the front disc precisely to avoid turbulent flow and air leakages, so that the air flows more smoothly to improve aerodynamic performance.

ü Optimized design repeatedly of CFD flow field simulation to ensure aerodynamic performance complied with the flow field characteristics.

ü Excellent aerodynamic performance, the maximum efficiency is up to 81%.

User Friendly


ü Flexible motor allocation.

ü Wide range of standard accessories available.
Technical
Fan Housing
The fan housing shall be made in steel and its thickness and strength should be able to withstand the maximum running weight of the fan. The volute shall be continuously welded and equipped with access door for removing possible foreign objects entered into the scroll.
Inlet
Fan inlet shall be aerodynamic design round curved section to transit the air to the wheel cone smoothly, it shall have good commutated effect to reduce turbulence, improve fan efficiency and reduce noise.
Coating
Fan surface shall be polished and cleaned up to remove particulates, welding slag, burrs, sharp edge, iron, oil, then epoxy coating or high temperature coating for high temperature environments use, fan surface shall be free of sags, wrinkle, blisters, exposed metal or peeling after coating. It shall be no corrosion and rust at least 10 years in allowable working condition.
Belt drive and Coupling drive
Fan shaft shall be heat treated through soaking furnace to the hardness level between HB250-280, and the maximum load should be 35% higher than the maximum fan operational speed. The shaft shall have shaft cover. It shall use 40 Cr steel when it is operated under 250。C and 35 CrMo shall be used when operating between 251。C - 450 。C. Cylindrical bearing box shall be used to support the fan shaft.
The service life span shall be longer than L-10: 80,000 hours at the maximum operating speed. N32-N46 lubricant shall be used inside. The bearing box shall equipped with water cooling system when operating between 61。C - 250。C. Water can be added depending on the actual operating environment. Water delivering system shall be added when operating above 250。C. The rate of evaporation shall be considered base on the operating temperature between 0.3 – 1 m3h.
The pulley shall be made of cast-iron and its construction size is determined corresponding to 130% of the driving power. The pulley and belt shall be furnished with cover. Flexible coupling shall be used for coupling drive. The safety of conveying power and torsion shall meet the design requirements. It shall have coupling guard.
Motor
Motor is carefully matched to the fan load, protection level IP54, and insulation class F. Motor ball bearings are used and lubricated. Motor and drives are isolated from the air stream to avoid grease or dirt accumulation.
Explosion-proof Structure (Only for explosion-proof type)
Fan shall conform to Spark C explosion-proof structure according to AMCA99 Standard. The inlet shall mount copper ring and the motor shall adopt explosion-proof type. The whole fan should own CNEX certification and the manufacturer must own the production license for anti-explosion electric products.
Nameplate
Aluminum manufacturer name plates each containing serial number and model type are mounted permanently on all fan bodies. All name plates are traceable by customers.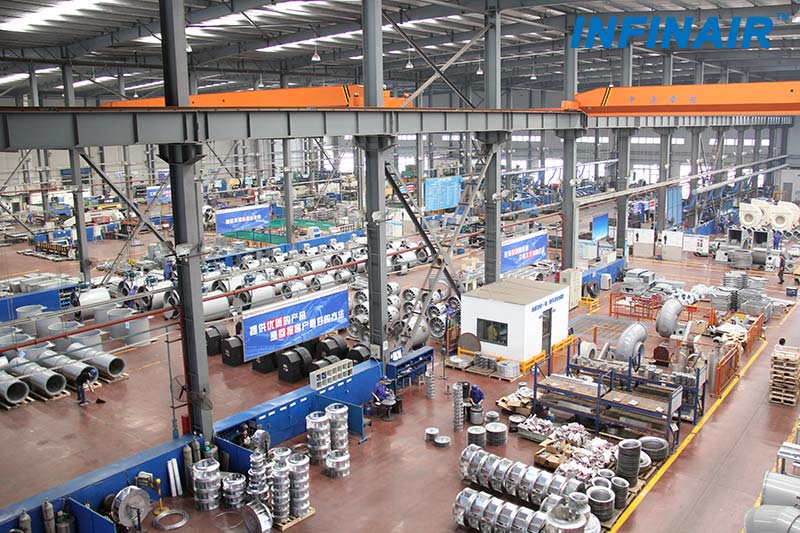 INFINAIR is an innovative company which provides environmental and intelligent solutions for all aspects of ventilation systems in both private and public sector. They have been INFINAIR's core values and commitments to our customers over the years.
Trademark: INFINAIR
Established Since: September 2003
Paid up capital: 50,000,000 RMB
Architectural area: 33,000 ㎡
Address: No. 55 Qingneng Road, Waigang Town, Jiading District, Shanghai, P. R. China
Sales & Service Office:
Our sales and after-sale service network promise easy access to customers anywhere in China. They are located in various locations: Shanghai, Beijing, Shenchen, Jilin, Liaoning, Tianjin, Shanxi, Henan, Shaanxi, Shandong, Jiangsu, Anhui, Zhejiang, Fujian, Zhongqing, Sichuan, Hunan, Hubei, Guangdong, Guangxi, Hainan, Guizhou and XinJiang.
Company Vision:
To become the most trusted brand of professional air movement & control solution provider.
Company Mission:
To provide the most reliable and user-friendly air movement & control system.
Product value proposition of INFINAIR: Reliable, Convenient, and Novel.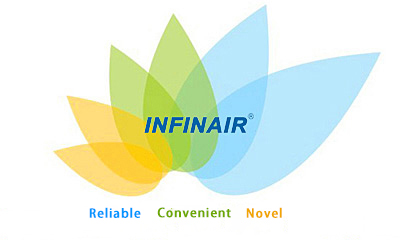 1. Reliable
At INFINAIR, we prioritize reliability in our products and services. INFINAIR focuses on high-quality system construction, we commit to the constant improvement of product and service reliability:
R&D ability as the basis of product reliability:
At INFINAIR, R&D ability is at the core of our product reliability. Thanks to the extensive experience, INFINAIR has mastered CFD, FEA and CAD technology, fundamentally and significantly improving product reliability. INFINAIR's air performance lab and noise lab both play a part in forming a solid foundation for product reliability in terms of test scope and precision, as well as in overall investment and construction scale. Our labs are accredited by CNAS, and INFINAIR also boasts the first lab in Mainland China accredited by the AMCA.
Technology and Equipment Reliability Guarantee:
By continually investing in improvements to processing technology and equipment, INFINAIR constantly increases and improves processing capability and precision, assembly methods, production processes, online monitoring, and pre-distribution testing, guaranteeing an ever-increasing level of product reliability.
Third party certification as further proof for reliability:
INFINAIR possesses various third-party qualifications including: Industrial Product Production License, Explosion-Proof Production License, as well as certifications such as ISO 9001, ISO 14001 and OHSAS 18001 qualifications. Most INFINAIR products are compliance-certified by a third party. INFINAIR is the industry leader in terms of both the number of certifications and how long we have held these certifications.
Quality-management system and ongoing reliability:
INFINAIR utilizes an ISO 9001-compliant quality management system, certified by SGS. We constantly carry out 5S and lean production Six Sigma improvement, meticulously establishing a sustainable quality management system.
2. Convenient
INFINAIR features:
-- Complete product configuration and varied impeller forms.
-- Adaptable product selection.
-- Flexible lead time.
-- Quick customization.
-- Prudent product accessory options.
-- By your side service team and quick courier delivery service.
3. Novel
At INFINAIR, we not only pursue products that are like no other, we also pursue innovation. Both of these pursuits aim to give our clients better value.
We offer:
-- Greater aerodynamic performance, energy-saving ability, and noise reduction ability.
-- Simplified, rationally-developed structures.
-- More convenient installation and use.
-- Low maintenance, low total cost of ownership.
-- Adaptable and pragmatic post-sale service.