JOB REF
INFINAIR provides ventilation solutions for Podium Shopping Mall in Philippines
---
Podium Shopping Mall is located in the Ortigas Central Business District in the Philippines. It is a mixed commercial building covering office, shopping and leisure services. The development area of the project is 26,106 square meters, which will be constructed in two phases. The construction will be completed in 2019. The commercial building has 47 floors above the ground and 6 floors below the ground. Podium Shopping Mall is designed and built by internationally renowned designers, with a clever overall design and elegant appearance. It provides excellent retail, dining, service and leisure facilities, further strengthening Ortigas's core position as a central business district.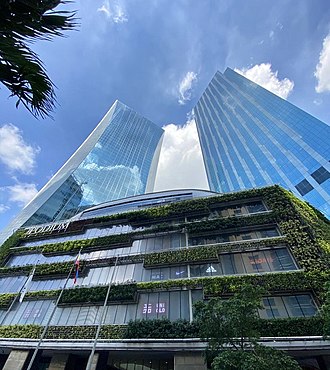 As a key construction project in the Philippines, the construction of the Podium Shopping Mall has attracted worldwide attention. The ventilation of commercial buildings has also received great attention from the owner, and the bidding process for ventilation equipment suppliers has been extremely harsh. With extensive experience in the field of ventilation and excellent after-sales service, INFINAIR has stood out from many well-known international ventilation equipment manufacturers and successfully won the bid to become a supplier of ventilation solutions for Podium Shopping Mall.
Since the project was awarded to INFINAIR, the INFINAIR sales team has maintained active communication with the Podium Shopping Mall owner, organized special meetings several times, and conducted in-depth exchanges on the actual situation of the project site. INFINAIR established a special working group within the company, and the two parties repeatedly communicated and finally established a specific design plan for the ventilation system. INFINAIR's professional design capabilities and meticulous service attitude have won unanimous praise from.
In large buildings, there is big density of people. Without an effective mechanical ventilation system, it can cause air obstruction and affect the shopping experience. What is more serious is that in case of a fire, if the fire situation is not controlled in time to prevent the fire from spreading, it will lead to large losses of personnel and property. INFINAIR has fully considered the actual ventilation needs of Podium Shopping Mall and tailored its ventilation solutions. INFINAIR's smoke exhaust fan can ensure that the smoke generated is promptly removed in the event of a fire, and fresh air is injected into escape routes such as stairs, thereby effectively avoiding the danger of inhaling smoke and suffocation. These exhaust fans have passed the international TUV SUD high temperature test and can run continuously at 300 ° C for 120 minutes, far exceeding the national standard of 30 minutes at 280 ° C.
INFINAIR's solutions for the Podium Shopping Mall include induced jet fans-YFPIJ, ducted centrifugal fans-ISQ, high-efficiency axial fans-YFIAM, high-efficiency full-flow fans-YFIMF and DWDI centrifugal fans-YFICK, etc. These products are combined with each other to form a powerful ventilation network, which provides a strong logistical guarantee for the safe and reliable operation of the Podium Shopping Mall.