JOB REF
INFINAIR fans for the KIA Yancheng Job
---
The Dongfeng Yueda KIA is an joint-venture of Dongfeng Motor Corporation、Jiangsu Yueda Investment Co. Ltd and Korean KIA Automatic Vehicle. Ltd, partly occupying respectively 25%、25%、50% of the company and, the original investment is 70 million US dollar. The company takes 250 thousand square meters and has employed 1000 workers. The factory has the processing line of drawing, welding, painting, assembling and testing, having the ability to produce 50000 economical vehicles annually. At June. 2009, the KIA invested in processing line factory in Xuzhou Jiangsu.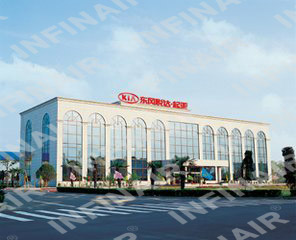 1.The challenges of the project
-- Quiet working environment is needed because of indoor processing and producing, ensuring the health of workers. Small vibration and low noise is needed as a strict requirement.
-- Painting process generates huge amount of vapor, which may cause corrosion of fans, therefore anti-corrosion is quite essential.
-- There is much dust in the painting process. The accumulation of dust will easily cause explosion and fire. The blower is needed to be explosion proof and fire resistance.
-- Because of the processing line has high standards, the surface of the blower should be good appearance.
-- The location of the vent-duct is variable. Some of it is on the rooftop while some is on the ground. This requires versatile installation capability.
-- The blower is installed at the front part of the duct. When it's working, the rain will be easily sucked into the indoor duct. Therefore the fans should prevent rain into the door effectively.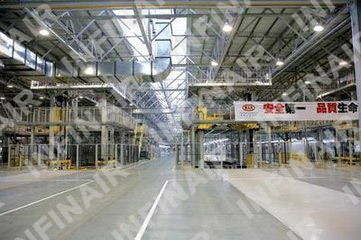 2.The solutions of INFINAIR

-- YFICK is made up of high quality extruded aluminum alloy frame, which is firm structure, meeting the requirements of processing line.
-- YFICK is made up of galvanized steel and sealed cabinet structure. The thickness is appropriate and has small vibration. The wider inlet channel is accordant with AMCA, reducing turbulence and balance level up to G2.5 and well overall noise reduction.
-- YFICK is made up of epoxy powder coated, which is melted with high temperature, corrosion resistance and rust protection.
-- The motor is external installation and is out of air stream. The inlet and outlet area has fire protection device, solving the fire protection of customers.
-- YFICK is made up of many different inlet and outlet angle directions and over-hanging mounted and floor mounted, solving the maintenance and installation problems at first.
-- The inlet angle is made up of 45/60/90 and different angles of rain hood. And setting rain filter to solve the weather problem.




3.The feedback of customers

The CEO of the KIA, MR. Chen said: "We had used blowers of many other brands before, all of them can't solve the problems of appearance、 vibration、noise、corrosion proof、fire protection completely. When we use the INFINAIR fans, the problems get efficient solved. With long-year use, we think the INFINAIR fans is reliable".

4.The thanks letter

To Shanghai Nautilus General Equipment Manufacturing Co., Ltd.

Since 2006, our company has built many workshops and used many INFINAIR products, such as gas heating make-up air unit、mixed flow blowers、centrifugal fans、anti-explosion fans and so on. These machines are all at good working conditions、high quality、reliable, ensuring the right order of producing of the company. The INFINAIR is best supplier in exhaustion and air movement of our company, making the both victory outcome.

During the cooperation, we deeply felt the proposal of INFINAIR, do what I need, meeting the requirement of customers with full heart, experiencing the advanced design theory and process, strict quality standards, high efficiency and convenience.

Thanks for the Shanghai Nautilus General Equipment Manufacturing Co., Ltd provides such good solutions in exhaustion and air purifying with long term and distinguished after-sale service. We think INFINAIR is reliable and can be long-term partner. We will corporate continuously with INFINAIR and reach higher level.

Dongfeng Yueda KIA Co. Ltd.

16th Sept. 2015