INFINAIR, Platinum Sponsor of Asia AMCA Technical Seminar
2018-06-29
---
Asia AMCA has held a technical seminar on the 26th & 27th in June 2018 in Singapore. As a leading global nonprofit association, it focuses on building customer-oriented industrial standards and performing certifications for air system equipment.
Based in Singapore, Asia AMCA represents AMCA International in administering the Certified Ratings Program (CRP) and promotion in Asia Pacific Region, including China, Japan, South Korea, Russia, Southeast Asian and Oceania countries. Its Independent Accredited Laboratory in Malaysia has advanced equipment to perform air, sound and damper test.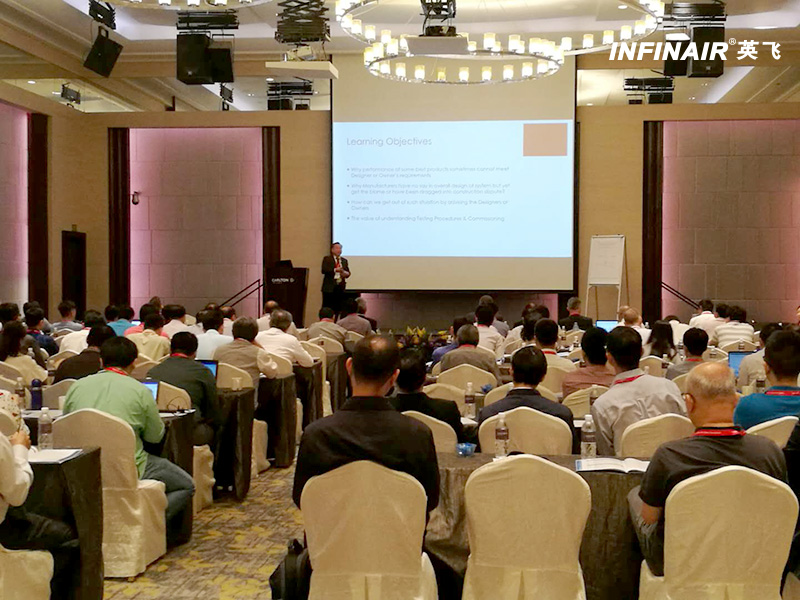 Asia AMCA Technical Seminar
During the seminar, 12 international experts shared their insights on many topics, including airflow in a system, fan selection, tunnel fans, EC technology, plenum fans, wall of wind system, vibration and balancing, entrained air exhaust (high plume jet fans) systems, fan sound, field test & site commissioning, dampers and louvers.
INFINAIR is proud to be one of the platinum sponsors of this event.
INFINAIR is committed to meet the international standards since it was founded. INFINAIR was among the first to build the laboratory conforming to the AMCA 210 standard in 2006.In addition, two air chambers were added in 2009 and 2011 respectively. The laboratories were the first to be accredited by AMCA in mainland China. In 2014, INFINAIR has invested over 2 million USD to further strengthen the testing capabilities. A third air chamber with a maximum airflow capacity of 200,000 m³/h and a 1,700 m³ sound-testing reverberant room was added.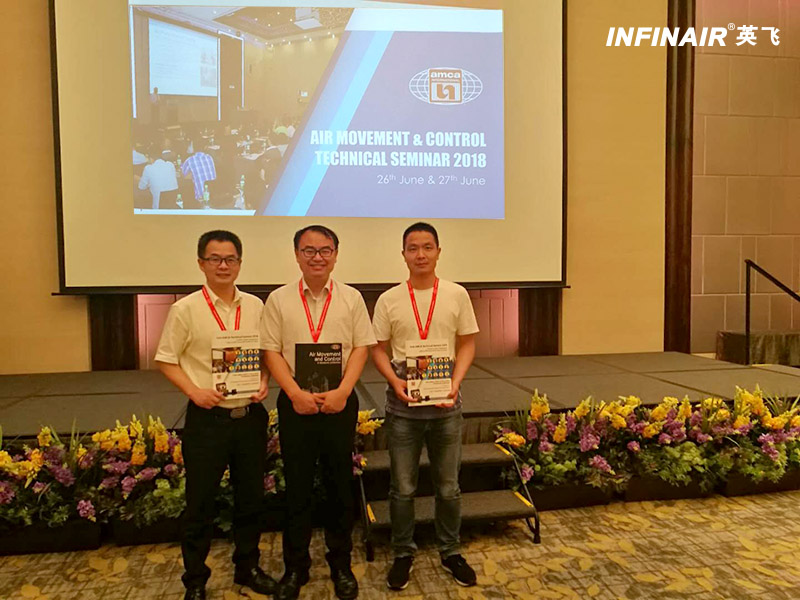 Participants from INFINAIR at the seminar: (left to right) Director of INFINAIR Research Institute, Chief Executive Officer, Engineer from INFINAIR Research Institute
At INFINAIR, a range of our regular products are AMCA certified. A number of fire & smoke related products are TUV SUD certified and can remain continuous operation for 120 minutes under 300℃.
Want to know more? Please visit our website at www.infinair.com and kindly leave your comments.