INFINAIR made a grand appearance at ECOTECH CHINA AIR (SHANGHAI)
2019-06-18
---
The 5th ECOTECH CHINA AIR (SHANGHAI) was successfully held at the Shanghai National Convention and Exhibition Center from June 3rd to 5th. As the largest professional air technology platform in China, it covered an area of 32,000 square meters and exhibited air purifiers, fresh air systems, related accessories and testing devices.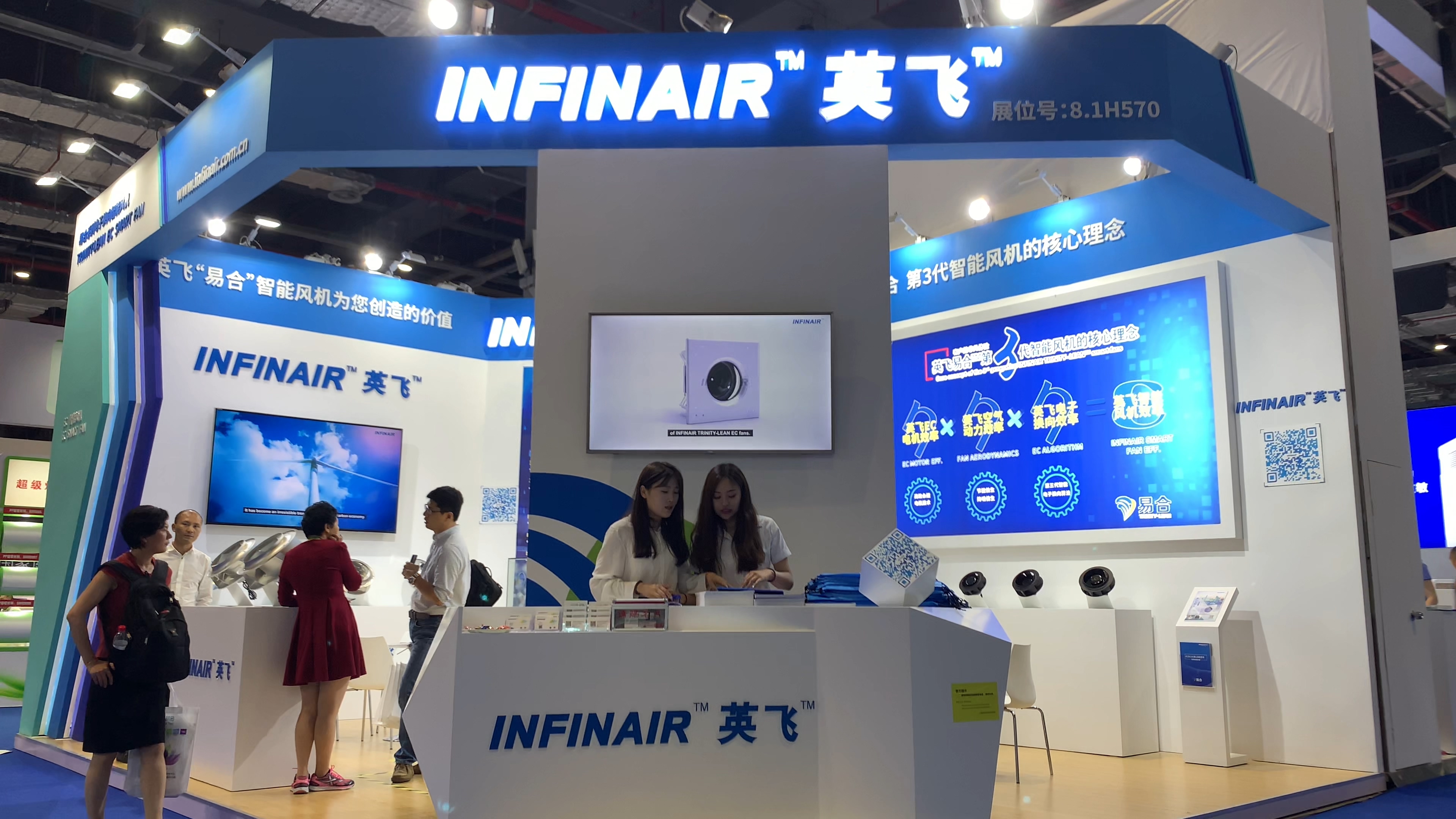 EC smart fan, which closely caters to the needs of the fresh air/purification industry, made its appearance at ECOTECH CHINA AIR (SHANGHAI). Its three advantages of stepless variable speed, high energy efficiency and great compatibility have met the growing demands of market.
A. Infinitely variable speed: With the drive controller or the top-level control system, the stepless variable speed function helps EC fans meet various operating conditions in real time, requiring no additional hardware.
B. High efficiency: INFINAIR smart EC fans are over 30% more energy-efficient at both high and low speeds than AC fans;
C. Strong compatibility: By virtue of the drive control system, EC fans can operate in a wide voltage range and run on AC / DC power supply, compatible with 50Hz / 60Hz power sources.

INFINAIR TRINITY-LEAN smart fans have the following design principles to increase smart fan efficiency:
The permanent magnet technology is used on EC motors for high efficiency;
The bionic aerodynamic technology is used to help ensure reliable aerodynamic performance;
The 3rd generation of INFINIAIR electronic commutation algorithm increases the electronic commutation efficiency;
EC smart fans are mainly used in fresh air / purification, HVAC systems, precision air conditioning, IT information technology / telecommunications, refrigeration industry, electronics, new energy sources and auto industries.
At the three-day ECOTECH CHINA AIR (SHANGHAI), INFINAIR attracted a constant stream of visitors from home and abroad to stay and consult. INFINAIR has achieved steady development in the ventilation industry by virtue of its strong technical strength, reliable after-sales service and stable product quality. INFINAIR is your reliable partner and doing its best to deliver extraordinary customer experience.