Inline Square Mixed Flow Fan- Wheel Type H- YFISH
Airflow Range: 1,000~150,000 m³/h
Static Pressure Range: 100~1,700 Pa
Drive Type: Direct/ Belt
Installation Method:Base Mount/ Ceiling Hung
Application: Inline/ Filtration
For reference only. Please contact our sales rep for detailed performance fan curve. Thank you.
Wheel
Brand New Wheel Design
Patented "Wind Hunter" series mixed flow wheel. Its front disc and venturi are carefully matched to maximize air performance.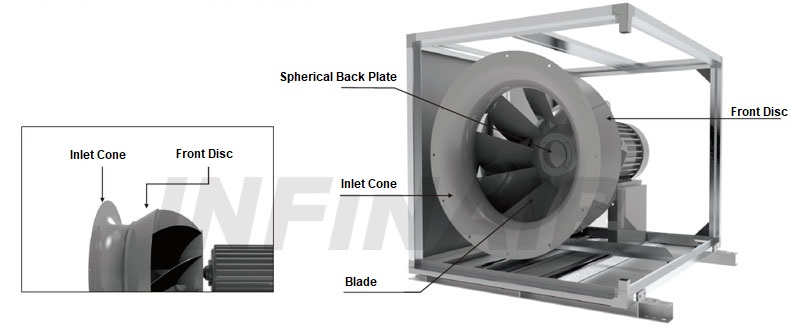 Advanced Design
Unique airflow characteristics. Our engineers have repeatedly optimized the wheel with countless CFD simulations.

Advanced Fabrication
The wheel and other fixtures are made from a special designed mold and are continuously welded. Ensuring maximum strength is maintained.
High Balancing Level
The balancing level of the wheel is up to G2.5 (AMCA 204) which is much higher than the standard G6.3 required internationally. Stability is greatly increased thus lowering the vibrations and noise.
Lowest Noise Level
Testing of the YFISH is conducted in accordance with AMCA 300 Reverberant Room Method for Sound Testing of Fans. It is proven that the YFISH has the lowest noise level among the other products with the same parameters in centrifugal and axial fans.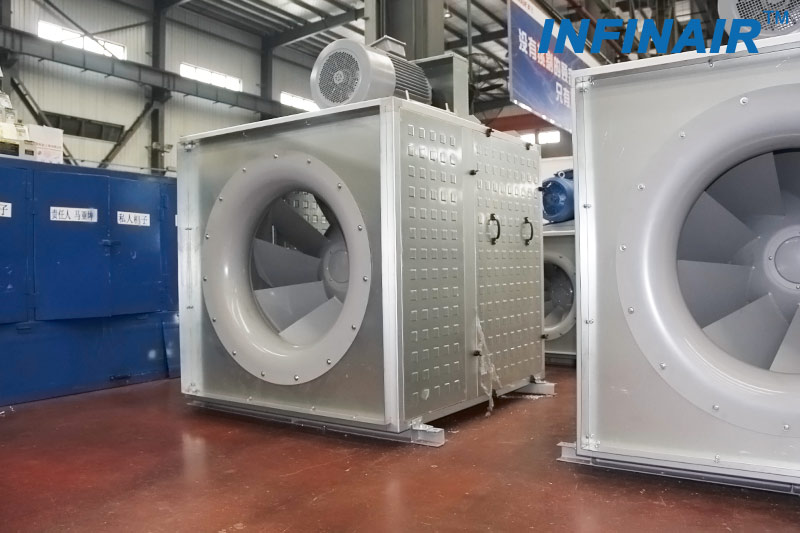 Product Features
Performance Characteristics
The mixed flow fan has larger air volume over the centrifugal fan and higher air pressure over the axial fan. When placing them under the same working conditions, the mixed flow fan has more advantages over the others in terms of performance and noise level.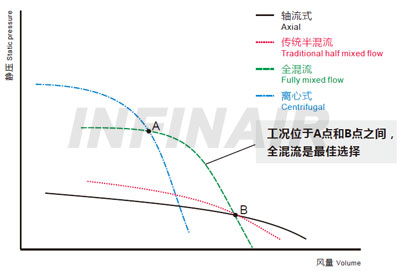 High Efficiency
The design of the wheel and guide vane has been repeatedly optimized to assure high efficiency, leakage free and low turbulence.
Better Sound Proofing
The noise of the mixed flow fan is determined by its structural design and changes in acoustical power (see fig. below). The noise generated in each air volume segment is much lower than the axial and centrifugal fan with low acoustical level (62.5-250Hz).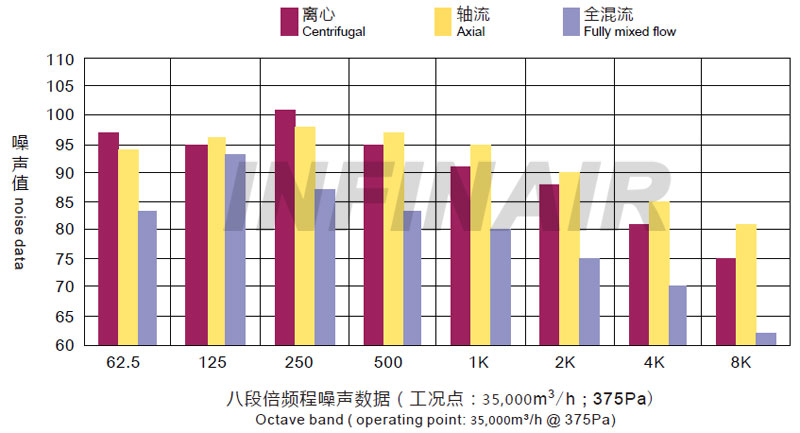 Aluminum Frame Design
The frame of the YFISH is made of heavy duty aluminum. It is very light weight and has the best sealing over the others. Additional sound proofing accessories (double acoustical layer or foamed rubber acoustical lining) can be added easily upon request.
Flexible Direct or Belt Driven Option
-- Direct driven type has six different blade angles available for selection. A solid low maintenance product designed for delivering efficient air flow.
-- Belt driven type has effective blade angle. Since the motor is located outside, maintenance work or replacement can be carried out easily.
Mutiple Air Directions Design
4 different air exhaust directions can be chosen in direct drive type and 7 in belt drive type. Makes it more flexible to the actual working environment.
Technical Specifications
Fan Type
Fan type shall be mixed flow fan, cabinet design. Drive type shall be either belt or direct drive type.

Quality Standards
The fan performance shall be tested in accordance with AMCA Publications 210 and 300 in an AMCA accredited laboratory and certified for air and sound performance.
Coating
Fan surface shall be polished and cleaned up to remove particulates, welding slag, burrs, sharp edge, iron, oil, then epoxy coating [options: colour changes are available], fan surface shall be free of sags, wrinkle, blisters, exposed metal or peeling after coating. It shall be no corrosion and rust at least 10 years in allowable working condition.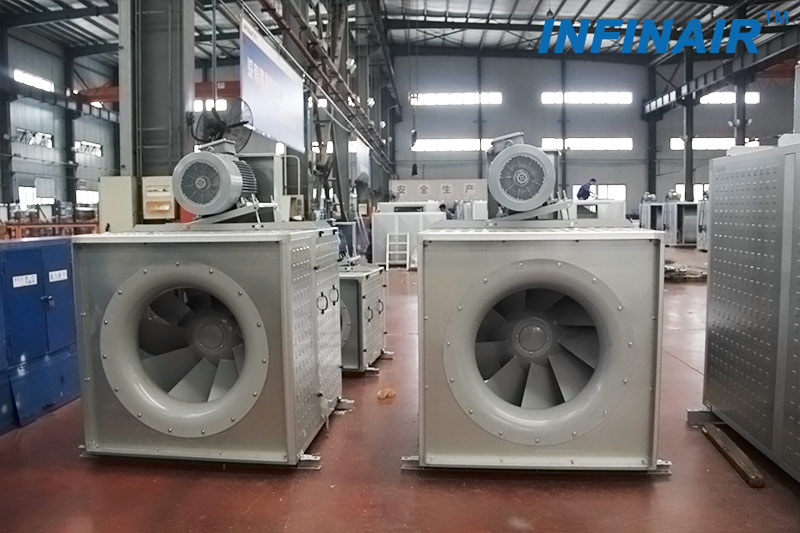 For Belt Drive Type:

Shaft
The material of the fan shaft shall be 40Cr steel with the hardness level between HB286. Its maximum loading shall be 25% larger than the maximum RPM of the fan.
Wheel
The wheel shall be mixed flow design. The wheel shall be dynamically balanced to G2.5 per AMCA standard. It shall be fabricated with continuously welded steel foils.
Pulleys
The pulleys shall be iron casted to provide long life and durability. They shall be factory set to the required RPM and adjustable for final system balancing. Drive belts and pulleys shall be sized for 150% of the fan operating brake horsepower, and shall be readily and easily accessible for service, if required.
Belt
Belt shall be oil resistant and static free.
Bearings
Standard bearings shall be ball or roller type, grease lubricated with a basic rating fatigue life (L-10), in excess of 80,000 hours at each level's maximum operating speed. Renowned brand name such as FYH and SKF shall be used to ensure reliability.
Belt Cover
The belt shall be covered by semi-closed belt guard to prevent accidental injuries.
For Direct Drive Type:
Shaft
The material of the fan shaft shall be 40Cr steel with maximum hardness level of HB286. The maximum tolerance pressure shall be 550MPa. Balancing tests shall be performed together with the wheel.
Motor
The B3 Motor shall be carefully matched to the fan load. It shall be mounted out of the airsteam. It shall be IP54 dust and water protection class; insulation class shall be F and temperature tolerance class B. It shall be equipped with electrostatic epoxy coated rain cover for outdoor operation. Since the motor is inside the housing, manufacturer shall provide wiring connection box. It shall be made according to the operation conditions of the fan.
Nameplate
A permanent nameplate shall be mounted onto the fan with its serial number (a unique number for each machine), model number and product number clearly engraved on it.