Inline Square Centrifugal Fan - ISQ
Airflow Range: 600~50,000 m³/h (353~29,412 CFM)
Static Pressure Range: 500~900 Pa (2~3.61 in.WG)
Drive Types: Direct/ Belt drive
Mounting Types: Base mounted/ Ceiling hung/ Duct mounted
Applications: Ducted air supply and exhaust / Filtered air supply and exhaust / Sound-proof fan box / Explosion-proof air supply and exhaust / Smoke removal
For reference only. Please contact our sales rep for detailed performance fan curve. Thank you.
Wheel
New Wheel Design


-- Excellent sound and air performance.

-- Wide performance range of high efficiency and non-overloading.

-- The balance quality grade as high as G2.5 (Just G6.3 for general products).

Air Performance Design
-- Optimized design through CFD flow field simulation and repeated tests.
-- The front disc and inlet cone in conformity with flow field characteristics.
-- Flow passages control: airflow regulated well through precise synergy.
-- Optimized mounting angle for blades.

Structural Design

-- Stress analysis by FEA method for better performance.

-- Various additional strengthening for different specifications for greater reliability.

-- Riveting technology used to avoid stress.

Wheel Improved


-- Continuous Improvement: upgraded to the 4th generation of wheel.

-- Compared with the 3rd generation: overall performance improved by 5-10%.

-- Compared with the 3rd generation: overall sound level reduced by 2-3 dB(A).
Advanced Process


-- Wheel cone and inlet cone formed by spinning to ensure good air performance.

-- Inlet cone: replacing the inlet bell to ensure smooth airflow.

-- Blades: formed by punching to ensure quality.

-- Tooling: dedicated fixtures to ensure the precise mounting position of blades.
Feature
Wide Performance Range and More Economical

-- The 4th generation of centrifugal Wind-Surfer wheel possessing a wider pressure scope and lower sound compared with the 3rd generation.

-- The wheel diameter as long as one meter, requiring fewer fans and lower primary investment.

-- No scroll needed and the fan size reduced, making installation easier.

Sound Solution: Centrifugal Inline Type

-- Fundamental difference from axial/mixed flow types: speed reduced by 20-30%.

-- Range of sound pressure level down by 10-15 dB(A).

-- A fundamental solution to sound.

No Scroll

-- Air directly pressurized in wheel and airflow pattern improved.

-- Direct drive and dust-free: suitable for clean rooms in microelectronics, food and medical industries.

AMCA Seal: for Sound and Air Performance

-- ISQ fans certified by AMCA for Sound and Air Performance.

-- AMCA Seal for Sound and Air Performance tagged on fans.

Square Design with Different Discharge Direction Options: Mounting Costs Reduced

-- Square inlet/outlet flanged sleeve: connector and ring flange now not used.

-- Lower air duct connection costs and faster installation.

-- Different mounting positions available for the motor.

-- Different discharge positions: ease of design and installation.

Fan Type

The fan shall be centrifugal inline type, with an aluminum backward inclined centrifugal wheel directly facing incoming air. The wheel cone shall have a curved section to ensure smooth air movement. Each wheel should be statically and dynamically balanced up to AMCA 204- G2.5 balance quality grade (Standard ISO 1801940).




Quality Standards

Centrifugal inline fans shall be tested and certified in accordance with AMCA Standard 210 & 300. AMCA Seal for Sound and Air Performance shall be tagged on each fan before leaving the factory. The manufacturer shall be certified by ISO 9001:2008.




Fan Housing

Material: The fan housing shall be made in cast steel sheet (Option: cold roll steel sheet finished with electrostatic epoxy coatings) .It shall be thick and strong enough to support the drive mechanism and motor.

Shape: The housing shall be a square one equipped with square flanged sleeves to avoid square/ round connectors. The housing design shall allow different discharge directions. On the left and right sides, there shall be sizable access doors so that motor maintenance and replacement can be performed without the need to remove the air ducts.




Drive Mechanism (For belt drive type only)

Shaft: The shaft shall be heat treated through homogenizing furnace to the hardness level of HB370, and the hard film shall be applied on the surface to avoid corrosion. The shaft shall also be subject to balancing tests together with the wheel. The design speed of the shaft shall be at least 25% more than the maximum running speed of the fan.

Pulley: Fan pulleys shall be sized for a minimum of 150% of the driving power. Pulleys shall be cast iron, keyed and securely attached to the wheel and motor shaft. Conical type bushings shall be equipped for easy removal of the pulley.

Bearing: Two bearings shall be used to support the shaft to avoid vibrations directly coming onto the motor. The bearing L10 rating life shall be 80, 000 hours at the maximum operating speed specified in the catalog. The bearing shall be of permanently sealed type and metal pedestal ball bearing that can be lubricated.

Drive Support: Drive mechanism shall be supported by thick steel sheet finished with powder coatings to avoid corrosion. The belt tension can be adjusted through the adjusting bolt at the motor base. The design shall make sure the fan shaft and motor shaft is always parallel.

Motor

The motor shall match the fan load precisely. It shall be IP55 rated with Class F Insulation. The motor bearing shall be lubrication-free ball type.




Nameplate

A permanently fixed aluminum nameplate shall clearly display the fan number, product model and serial number (a unique ID for each fan) so that the parts used can be traceable by customers.
Welcome to INFINAIR. This video is about our company, including history, products, value, service, technology, production and future. Integrated with R&D, tailor making, manufacturing, and international service ability, INFINAIR provides you complete, high-quality ventilation and industrial process air solution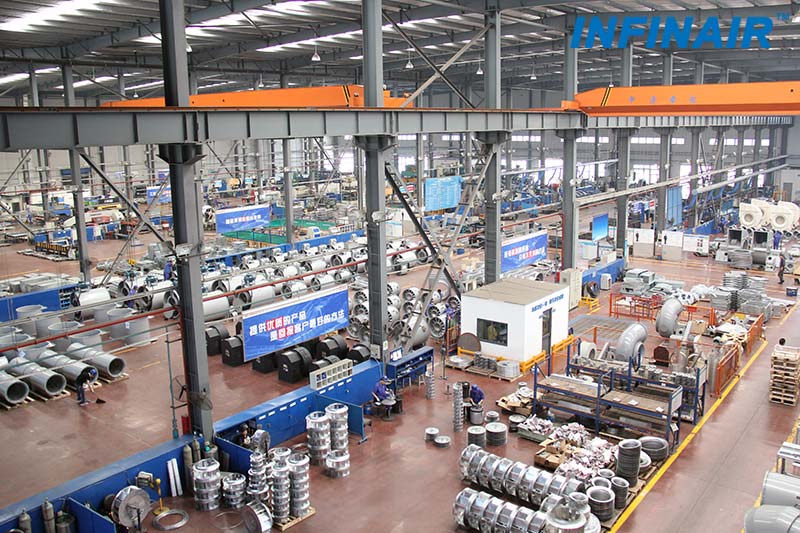 INFINAIR is an innovative company which provides environmental and intelligent solutions for all aspects of ventilation systems in both private and public sector. They have been INFINAIR's core values and commitments to our customers over the years.
Trademark: INFINAIR
Established Since: September 2003
Paid up capital: 50,000,000 RMB
Architectural area: 33,000 ㎡
Address: No. 55 Qingneng Road, Waigang Town, Jiading District, Shanghai, P. R. China
Sales & Service Office:
Our sales and after-sale service network promise easy access to customers anywhere in China. They are located in various locations: Shanghai, Beijing, Shenchen, Jilin, Liaoning, Tianjin, Shanxi, Henan, Shaanxi, Shandong, Jiangsu, Anhui, Zhejiang, Fujian, Zhongqing, Sichuan, Hunan, Hubei, Guangdong, Guangxi, Hainan, Guizhou and XinJiang.
Company Vision:
To become the most trusted brand of professional air movement & control solution provider.
Company Mission:
To provide the most reliable and user-friendly air movement & control system.
Product value proposition of INFINAIR: Reliable, Convenient, and Novel.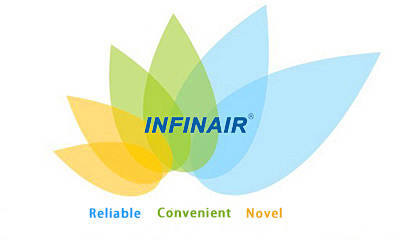 1. Reliable
At INFINAIR, we prioritize reliability in our products and services. INFINAIR focuses on high-quality system construction, we commit to the constant improvement of product and service reliability:
R&D ability as the basis of product reliability:
At INFINAIR, R&D ability is at the core of our product reliability. Thanks to the extensive experience, INFINAIR has mastered CFD, FEA and CAD technology, fundamentally and significantly improving product reliability. INFINAIR's air performance lab and noise lab both play a part in forming a solid foundation for product reliability in terms of test scope and precision, as well as in overall investment and construction scale. Our labs are accredited by CNAS, and INFINAIR also boasts the first lab in Mainland China accredited by the AMCA.
Technology and Equipment Reliability Guarantee:
By continually investing in improvements to processing technology and equipment, INFINAIR constantly increases and improves processing capability and precision, assembly methods, production processes, online monitoring, and pre-distribution testing, guaranteeing an ever-increasing level of product reliability.
Third party certification as further proof for reliability:
INFINAIR possesses various third-party qualifications including: Industrial Product Production License, Explosion-Proof Production License, as well as certifications such as ISO 9001, ISO 14001 and OHSAS 18001 qualifications. Most INFINAIR products are compliance-certified by a third party. INFINAIR is the industry leader in terms of both the number of certifications and how long we have held these certifications.
Quality-management system and ongoing reliability:
INFINAIR utilizes an ISO 9001-compliant quality management system, certified by SGS. We constantly carry out 5S and lean production Six Sigma improvement, meticulously establishing a sustainable quality management system.
2. Convenient
INFINAIR features:
-- Complete product configuration and varied impeller forms.
-- Adaptable product selection.
-- Flexible lead time.
-- Quick customization.
-- Prudent product accessory options.
-- By your side service team and quick courier delivery service.
3. Novel
At INFINAIR, we not only pursue products that are like no other, we also pursue innovation. Both of these pursuits aim to give our clients better value.
We offer:
-- Greater aerodynamic performance, energy-saving ability, and noise reduction ability.
-- Simplified, rationally-developed structures.
-- More convenient installation and use.
-- Low maintenance, low total cost of ownership.
-- Adaptable and pragmatic post-sale service.



INFINAIR laboratory is the first AMCA accredited air performance and sound testing laboratory in the mainland of China.
INFINAIR laboratory has successfully obtained the CNAS Laboratory Accreditation Certificate and enlisted in the Chinese National Accredited Laboratory Directory.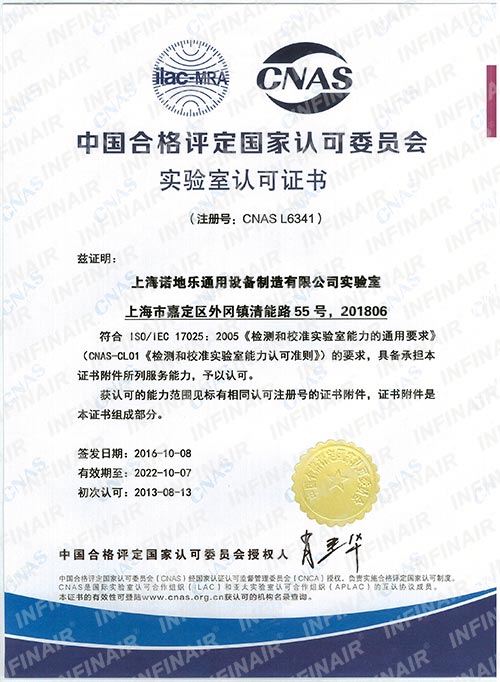 Laboratory Accreditation Certificate Issued by CNAS (Chinese National Accreditation Service for Conformity Assessment)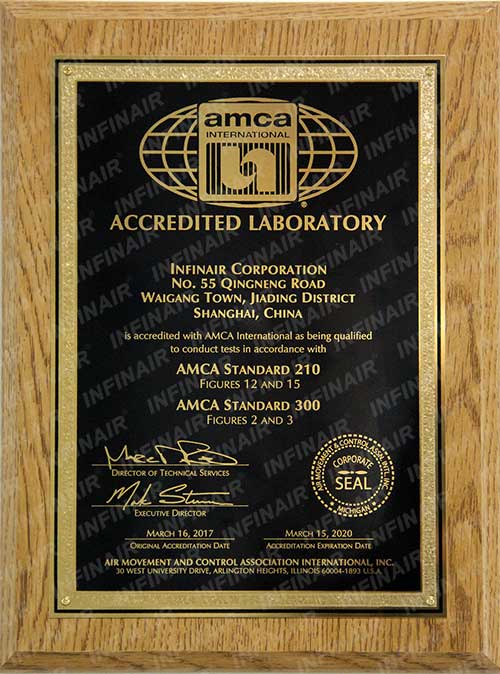 Laboratory Accreditation Certificate Issued by AMCA (Air Movement and Control Association)
All testing procedures at INFINAIR's air performance and sound testing laboratory are done according to the following standards:
1. All design, fabrication and testing guidelines are in strict accordance with AMCA 210, AMCA 300, ISO 5807, GBT 1236, ISO 13350 and GBT 10178 standards.
2. The INFINAIR laboratory has replaced the simple cardboard shielding method duct test with a new generation of precise-flow nozzle matrix systems.
3. Advanced and sophisticated testing equipment are being used in the laboratory.
4. All equipment used in the laboratory are calibrated and inspected regularly.
5. When comparing the results of same-sample inter-lab tests, the INFINAIR lab test results' margins of error are within the precision and error requirements specified by relevant international/national standards.

INFINAIR laboratory also has the following test capabilities:
1. perform overspeed test in accordance with JB/T6445 Overspeed test for industrial fan impeller;
2. perform vibration test in accordance with JB/T8689 Fan vibration detection and its limited value and other related standards;
3. perform thrust test for tunnel jet fans in accordance with ISO13350 Industrial fan-Performance testing of jet fans;
4. Designed in accordance with such standards as EN 12101-3 and UL 793, INFINAIR laboratory has built high-temperature furnaces for smoke removal fans for performance tests and as a witness test platform for obtaining TUV, UL and other overseas certifications.
INFINAIR laboratory can perform other tests, such as high and low temperature resistance test, water spray and splash test, physicochemical test, dust test and so on. The laboratory helps ensure precise tests for reliable product quality and accurate technical data.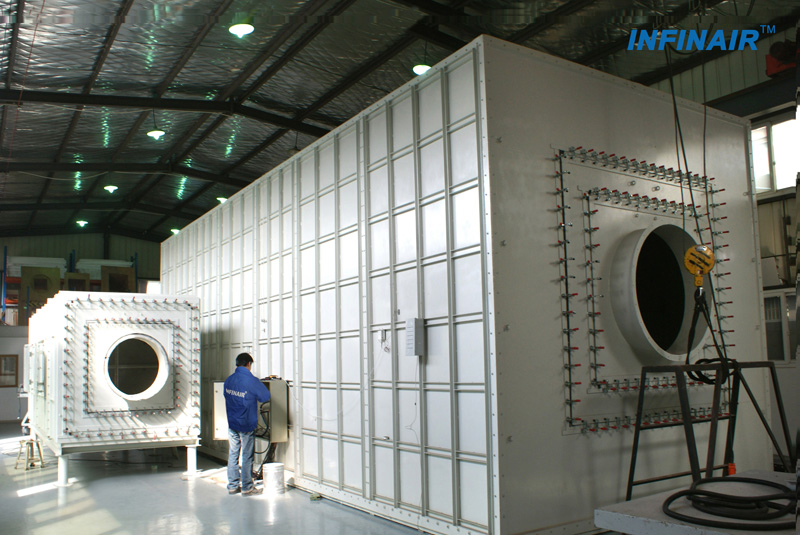 INFINAIR's Numerical Simulation Technology

INFINAIR owns the industry-leading CFD technology
INFINAIR Research Institute masters a set of core CFD technology combining theory with practice owned by INFINAIR itself. Through a large number of repeated engineering applications for many years, now, INFINAIR's CFD capability is mature and accurate. Besides, in combination with internationally accredited precision laboratories, Our CFD processes have been repeated hundreds of times to allow for comparison between theoretical values and test results, accumulating valuable test data.
CFD is an important R&D capability of INFINAIR's Research Institute;; it is featured of high calculated result reliability and fast calculation process. By means of the all-series product utility module system, it can reduce the module development cost of new product at the same time of offering fast customization to customer, and ensure economy while realizing customization.
Successful cases of INFINAIR CFD technology:
1. INFINAIR product generally adopts CFD for systematic development and optimized design, and this is just why INFINAIR is capable of supplying more energy-saving and more efficient products with lower noise. Please see following picture of simulated aerodynamic performance process of INFINAIR complete mixed flow fan, a certain new box-type fan of INFINAIR and a certain centrifugal fan of INFINAIR.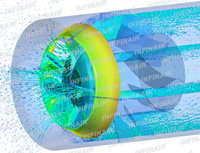 CFD flow field pressure and rate of INFINAIR patented complete mixed flow fan (process illustration)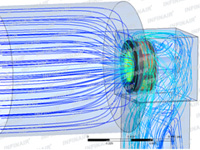 CFD flow field trace of a certain new box-type centrifugal fan of INFINAIR (process illustration)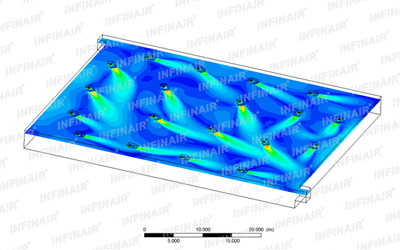 CFD analysis for inducing fan of garage (process illustration)
2. With respect to garage ventilation system optimization, INFINAIR has successfully developed a new, complete series centrifugal inducing fan with high static pressure as wehll as far projection distance, and guide the ventilation system layout of underground garage of customer. The following is the flow field layout simulation of an underground garage.
INFINAIR has mature FEA technical capability
1.In the practice process of FEA technology for many years, INFINAIR has accumulated a large number of data and experience which are suitable for actual physical property of common materials in China market.
2.INFINAIR Research Institute fully calculates and repeatedly adjusts the material type, material thickness, structural form and processing way in design stage to ensure that the parts can resist various pressures in operation, ensure that the fan can operate reliably for a long time, and ensure that the product cost is reasonable.
3.The final product scheme goes through the reliability verification of INFINAIR laboratory, conducts failure analysis and life extension analysis for products suffered aging test, reaches a definite conclusion, and thus reasonably saves equipment investment while improving product reliability.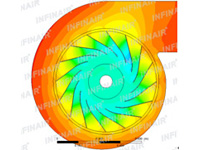 CFD flow field pressure cloud of a certain centrifugal fan of INFINAIR (process illustration)
——Numerical simulation technology CAE
1.Numerical simulation is a kind of application of Computer Aided Engineering (CAE), mainly includes two core technologies of CFD and FEA.
2.CFD is short for Computational Fluid Dynamics. CFD simulate-calculates the product performance inside computer, provides guidance for aerodynamic model design (optimize the number of blades, angles and widths) and noise prediction of fan, especially impeller, and thus helps the designer basically predict the final aerodynamic performance without producing so many prototypes, consequently realizes quick customized design or systemic optimization.
3.As a "virtual laboratory", CFD can realize fast iteration, save cost and reduce R&D period, is a strong tool for effective and reliable fan R&D and non-standard customization, and will provide accurate scheme for optimization of ventilation system.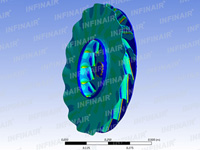 Process illustration of FEA stress distribution for customized centrifugal fan impeller made by INFINAIR
Successful cases of INFINAIR FEA technology:
1.The following is process illustration for a customized fan analyzed by INFINAIR Research Institute . According to the system natural vibration characteristics of the customer, INFINAIR Research Institute makes vibration mode analysis for the overall customized fan, achieves structural optimization, avoids resonating with system, and ensures that the fan can operate reliably for a long time.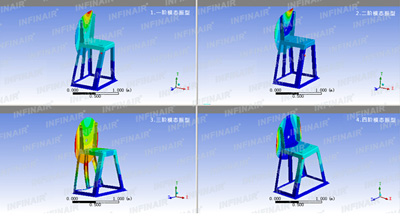 Modal analysis for fan frame made by INFINAIR Research Institute through FEA
2.In order to analyze the bearing and deformation of motor platform in operating process, INFINAIR Research Institute conducts modal analysis based on FEA technology.
R&D and Innovation: R&D team

INFINAIR Research Institute focuses on "product life cycle" and is fully responsible for management of all products. The responsibilities are as follows:
1.Fundamental research of hydromechanics;
2.Market research of ventilation, gas heating, motor, air purification and automatic control of ventilation system;
3.Product planning, R&D and manufacturing;
4.Customization;
5.Market launch and promotion, maintenance and update/obsolescence;
6.Product experiment and test, product certification;
7.Order processing and technical support.

As a new high-tech enterprise in Shanghai, INFINAIR Research Institute has an excellent technical talent team combing elder, middle-aged and young people and an effective talent cultivating mechanism. Immersing in Youth Culture of Ready to learn, Hard-working, Enterprising, Forward-looking, Innovative, Pioneering for a long time, INFINAIR R&D team has cultivated innovative spirit which has become source for core competitiveness of company.
INFINAIR Research Institute always takes Reliable, Convenient, Novel as the basic concept of product R&D and design. Under the guidance of the spirit and concept, the institute has reached innumerable great achievements, obtained more than 40 patent certificates and won many honors, it has launched many products for the first time in industry, what is more important is that INFINAIR Research Institute takes "at customers' side" and resolving practical product issues for customer as an important work habit, and thus creates valuable and satisfactory experience, gains full trust of customer. INFINAIR Research Institute will never stop innovating.
Advanced Technology and Equipment Ensure Product Reliability
--Much to expect from just having excellent design and a precise detail-oriented drawing? In fact, there is still a long way to go before finalizing a reliable product that comes only from high processing precision and advanced technology.
-- INFINAIR has put to use a large number of high-precision CNC processing machines. Besides, INFINAIR has produced lots of special-purpose equipment and core molds through its independent R&D efforts.
--Also, R&D staff and production workers at INFINIAR are mobilized to promote technological improvements through concerted efforts. By analyzing onsite issues and sharing the actions for improvement, product reliability has been continuously enhanced with the help of wisdom of frontline workers.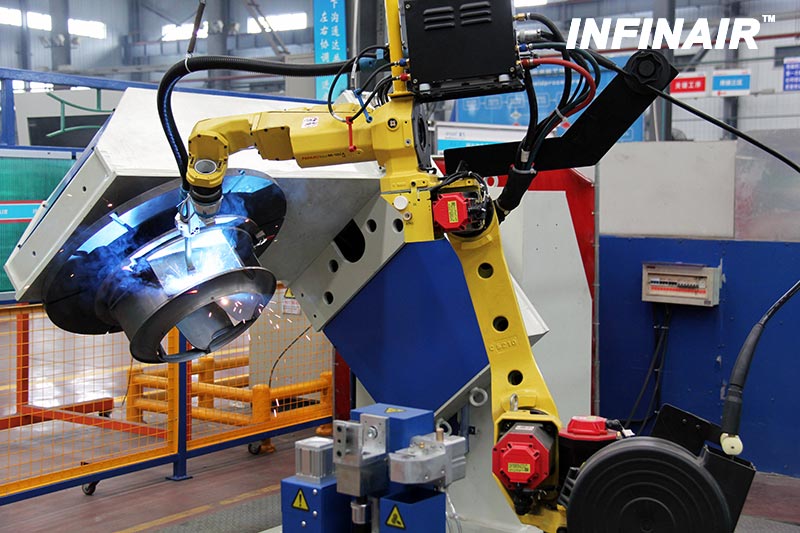 Reliability Certified by Quality Control Systems
--INFINAIR has been awarded triple certification in ISO9001, ISO14001 and OHSAS18001 by SGS, a world famous certification agency.
--INFINAIR performs tests on key points at all stages of production and products must be rigorously tested before leaving the factory to ensure reliability. A case in point: INFINAIR made huge investments in building a vibration test bench on the production line and importing dedicated test equipment from Germany for greater accuracy. This bench covers 180 square meters with its foundation reaching 20 meters underground.
--Furthermore, INFINAIR works with consulting companies to launch 5S programs and take the Six Sigma approach to the continuous improvement of products. In this way, abilities of staff can be improved and a sustainable quality management system built.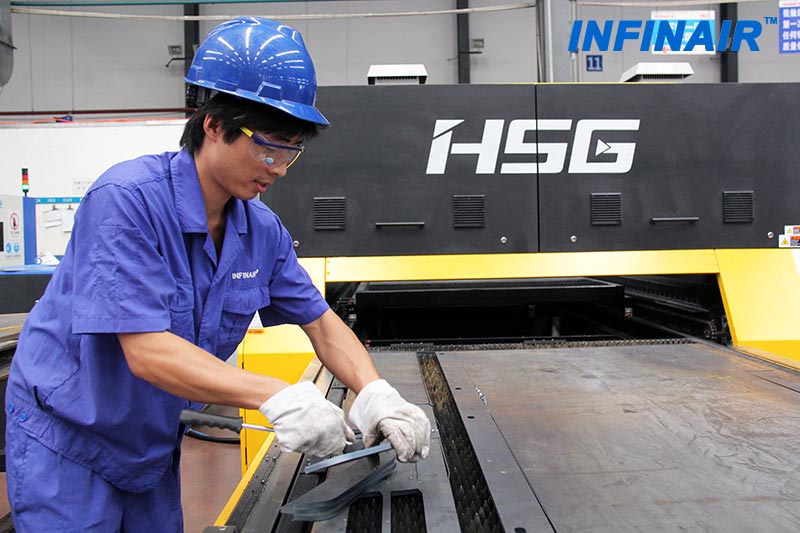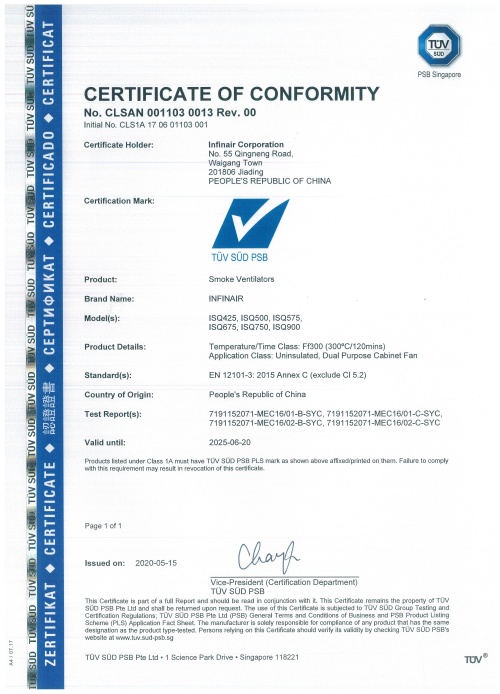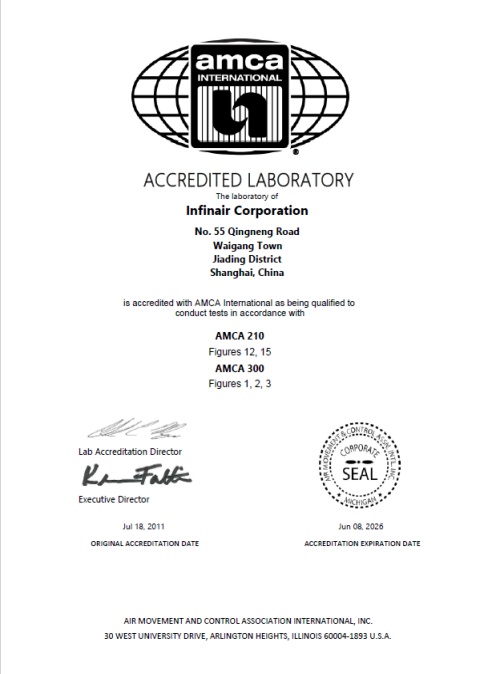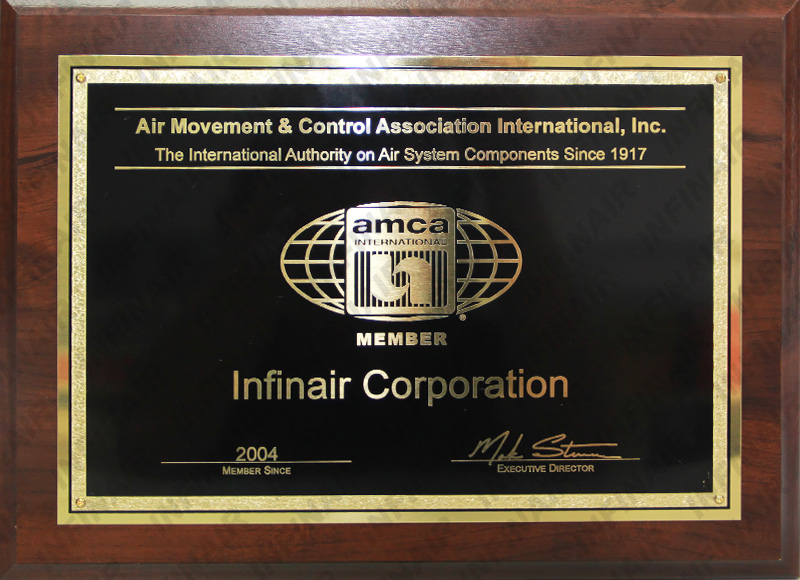 AMCA membership certificate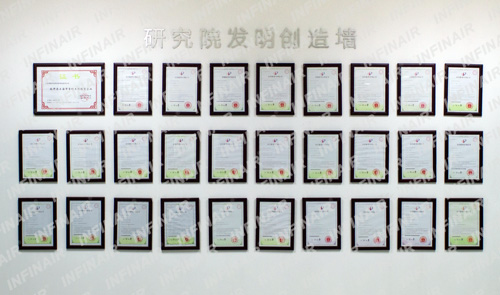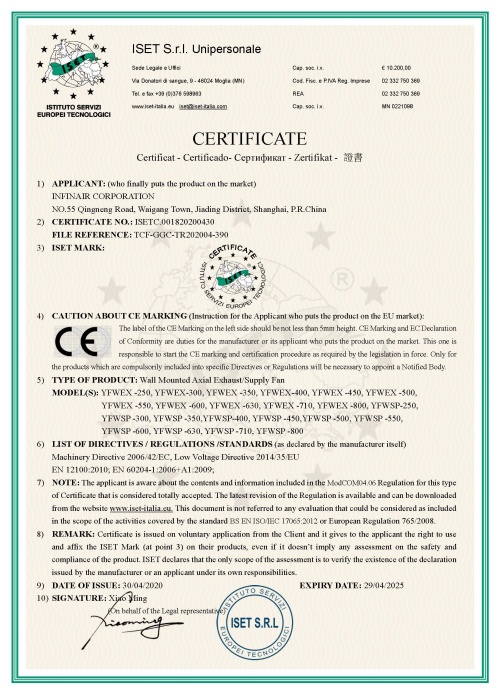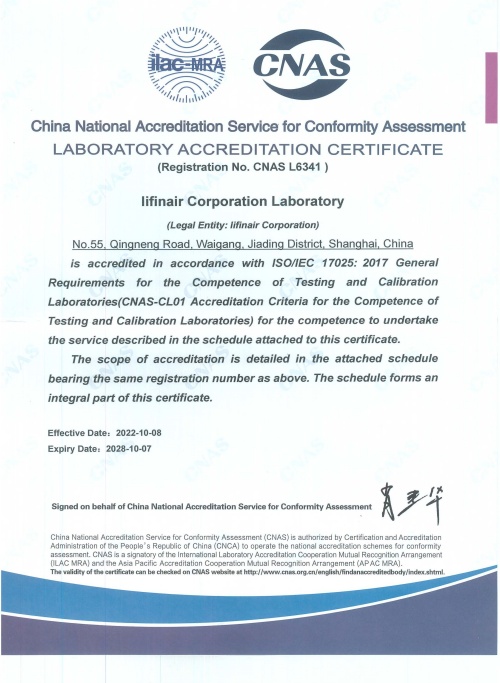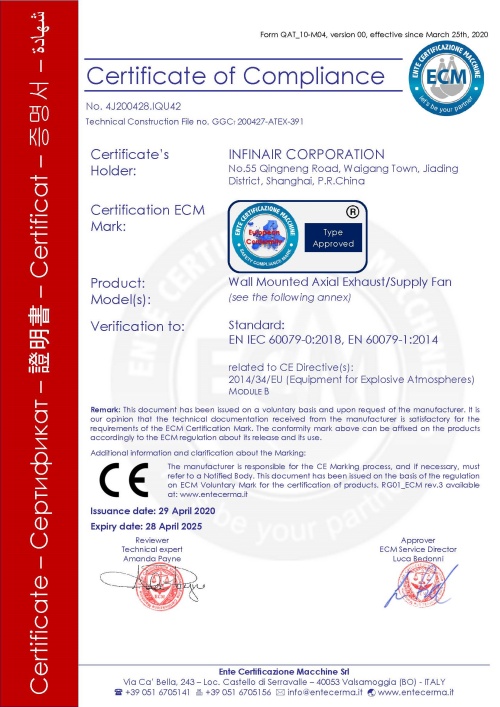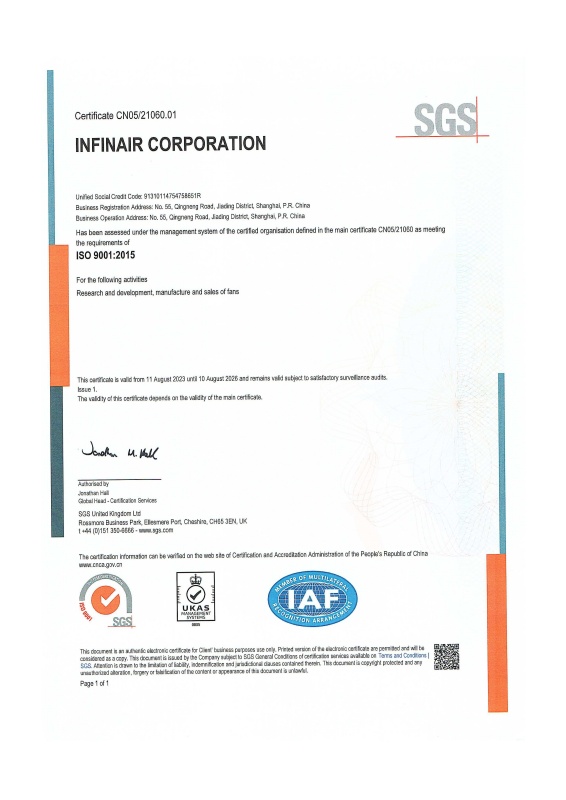 ISO 9001 quality management system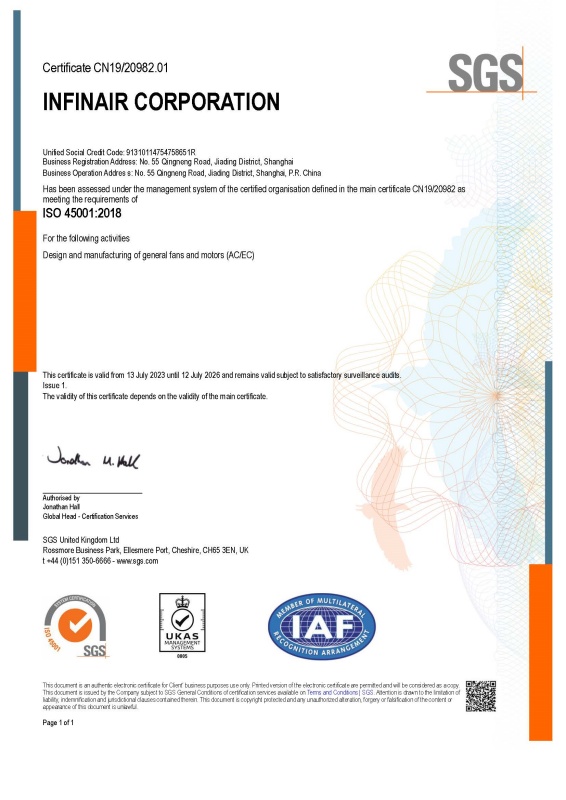 OHSAS 18001, Occupational Health and Safety Assessment Series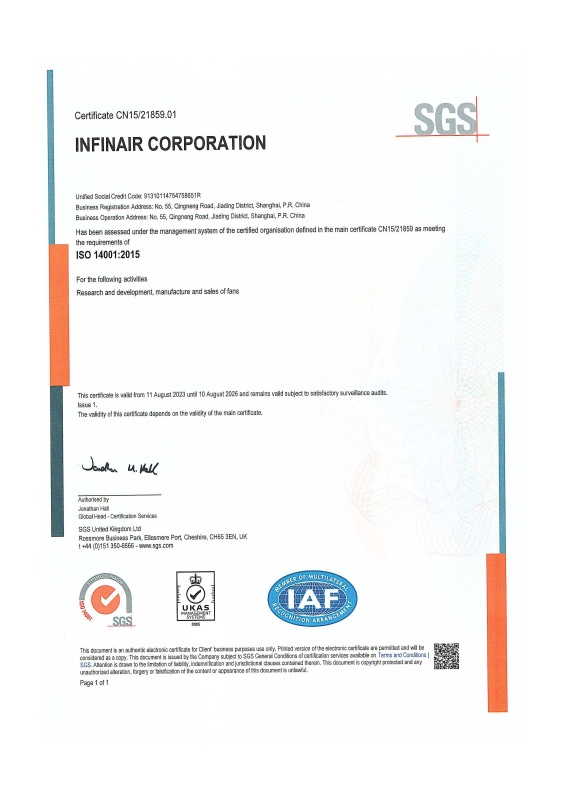 ISO 14001 environmental management system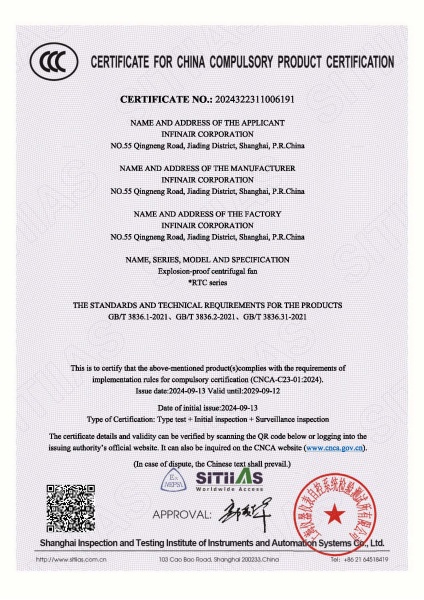 Explosion-Proof Certification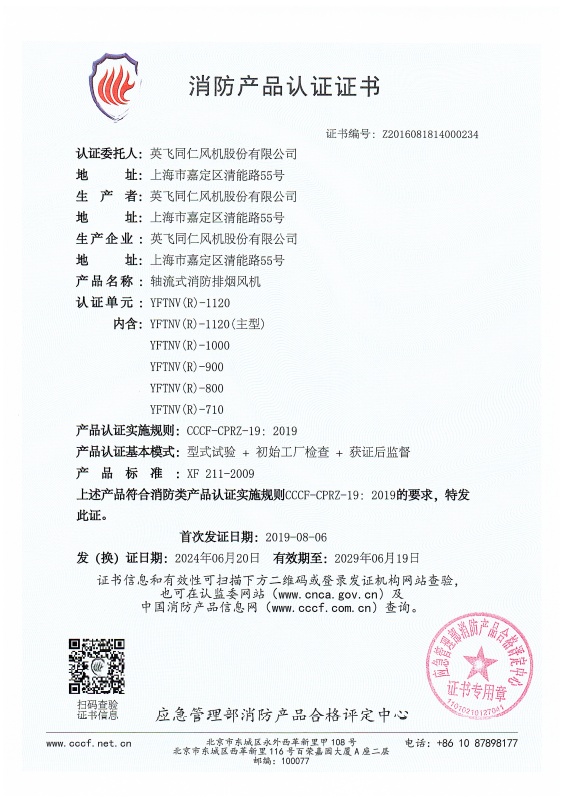 Fire Fighting Certification
Xinzheng Int'l Airport Phase 2
This video is about a signature airport job of INFINAIR ventilation. We participated and competed the bidding for this ventilation project - Xinzheng Airport in 2014.
INFINAIR fans for the KIA Yancheng Job
The Dongfeng Yueda KIA is an joint-venture of Dongfeng Motor Corporation、Jiangsu Yueda Investment Co. Ltd and Korean KIA Automatic Vehicle. Ltd, partly occupying respectively 25%、25%、50% of the company.