INFINAIR Positive Inducing Fans YFPIJ/YFPIM/PIV
---
Ventilation design is a process that involves multiple types of ventilation fans.Positive inducing fan is also known as jet fan. Its principle comes from the air disturbance characteristic in high speed movement. It uses the ejected high-speed air to drive the air circulation.
Positive inducing fans YFPIJ, YFPIM and PIV have been designed by INFINAIR through its own R&D efforts. They can be used under different operating conditions such as car parks, workshops, warehouses, supermarkets, stadiums, etc.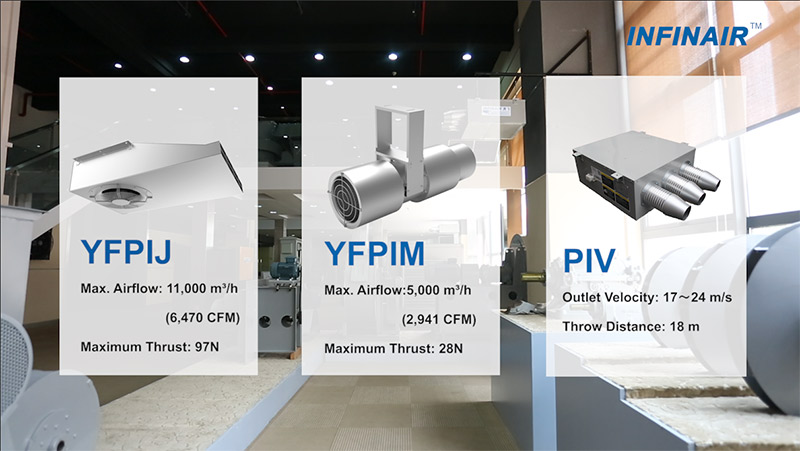 Positive Inducing Fan – YFPIJ
The positive inducing fan-Series J uses backward curved centrifugal steel wheel that features great efficiency, large airflow, long range and low sound level. The compact design makes them suitable for low clearance places. They can be used for general ventilation and emergency smoke removal. The fans are certified by TUV SUD which is made to operate continuously for 60 minutes under 300℃.
Positive Inducing Fan - YFPIM
The jet fan- Series M is a long range jet fan with great efficiency. The fan is equipped with silencers at both in/outlet sections, which produces extremely low noise. They can be used as inducing ventilation in underground car parks, entertainment venues as well as reducing air pollutant concentrations and improving air quality. Mounting brackets can be adjusted randomly for different mounting angles.
Positive Inducing Fans - PIV
The Series V is a compact, light-weight and energy-efficient jet fan. It's ductless and space saving design with revolving metal nozzle that can freely adjust the discharge angles. The housing is constructed of quality galvanized steel sheet. Electrostatic epoxy coating is also available.
And it does not stop here.

Ventilation System
A cost-effective ductless air distribution system can be fulfilled through careful design and integration of the jet fans. INFINAIR's wide selection of fans is the one-stop-shop solution for all your HVAC needs.
Intelligent Sub-regional Linkage
Furthermore, the intelligent positive inducing function is available across the YFPIJ, YFPIM and PIV fan series for sub-regional linkage, centralized control and remote monitoring system.
For example, INFINAIR offered a complete solution for a mega shopping mall. The solution involves underground 6-storey car park ventilation design, positive inducing fans (YFPIJ), inline vane axial fan (YFIAM), control cabinets and an intelligent system that automatically monitors the CO concentration.

Upon detection of excessive carbon monoxide (CO), the positive inducing fan in this specific region will start automatically and run for 5 minutes. If the concentration level remains, all the intelligent positive inducing fans in the interlinked sub-regions will be initiated. Also, supply and exhaust fans will begin to remove air pollutants and suck in fresh air. When the CO concentration level falls below the predefined threshold value, the fans will continue to run for another 10 minutes before they turn off automatically.
Want to know more? Please visit our website at www.infinair.com and leave your comments.